$205.00
Regular price
$305.00
Description

Extended Warranty
✧ Material: 24K Yellow Gold Filled | 925 Sterling Silver
✧ Stone: White Mother of Pearl + Diamond Simulant
This item comes with a 14-day warranty for any potential issues. To enhance your protection, consider our 2 year extended coverage:
Protection against accidental damage and wear-and-tear.
Repair for damaged prongs, clasps, and hinges.
Replacement for lost diamonds or gemstones.

♡ Simple claims process.
𑁍 Zero fees. No deductibles.
---
Free Gift Wrapping & Travel Kit
Serenity Bracelet
$205.00
Regular price
$305.00
24k Gold

Gold Bonded

Each meticulously handcrafted piece, taking three weeks to perfect, is adorned with a thick lavish layer of 24k gold, offering the epitome of durability and authentic richness. This unparalleled quality, mirroring the essence of solid gold, presents an investment in timeless elegance and enduring value.

Authenticity Certificate

Every item in our collection is accompanied by a Certificate of Authenticity, providing you with complete confidence in the quality of your purchase. This certification guarantees the declared precious metal purity. Rest assured that your investment in our fine jewelry is backed by our commitment to exceptional craftsmanship and materials.
Fair Pricing

Our Markup

At Saurin Jiya, we've chosen a unique approach to pricing that sets us apart. By cultivating relationships with top jewelers from around the globe, we're able to eliminate the need for conventional retail channels. This allows us to provide our exceptional pieces directly to you, delivering unparalleled value without compromising on quality.

Industry Standard

In contrast, many prominent brands in the industry apply markups of 4-5 times on their products. This has long been the industry standard, often placing luxury out of reach for many consumers.
Shipping & Returns

Fast shipping

At Saurin Jiya, we don't just prioritize the quality of our jewelry, but also the speed at which it reaches you. After meticulous order processing, expect your luxury piece on your doorstep within a swift 3-5 days. Because elegance shouldn't keep you waiting.

Order tracking

In our commitment to transparency, Saurin Jiya ensures you're never left guessing. With our seamless order tracking system, follow your jewelry's journey from our hands to yours, every step of the way. Stay informed, stay assured.

Get in touch

Need assistance or have feedback? Connect with the Saurin Jiya team. We're always eager to assist and hear from you.
Care Instructions

How do I take care of my jewelry?

24K Gold

Use a soft, clean cloth to gently wipe away any residue or fingerprints, ensuring each piece remains as stunning as the day you got it.

How do I store my jewelry?

When not worn, place jewelry individually to prevent scratches. Use the provided microfiber box for storage and the travel pouch when on the go.

Can I wear my jewelry in the water?

Avoid wearing your gold-bonded jewelry in water. While it's water-resistant, keeping it dry prolongs its luster and life.
Sourcing & Materials

Sustainable Sourcing

Driven by ethical and sustainable principles, every piece we craft is traceable across its journey. Our dedication not only uplifts people and the planet but also paves the way for a brighter tomorrow.

Ethical Labor

Jiya Patel launched Saurin Jiya to redefine traditional jewelry standards. She believes in luxury that's both accessible and responsible, encouraging mindful spending for a fairer world.

Transparent Values

We remain authentic to our core values. Championing equality and justice, these principles are reflected in every piece we create. Our actions and creations are rooted in driving positive change. Elevate your voice, and be the change.
The Saurin Jiya
Experience
Our packaging reflects the same level of quality and luxury as our jewelry. We carefully select materials and designs that enhance the unboxing experience, creating a memorable moment for our customers. From our sleek and elegant boxes to the soft suede inlays that protect each piece, we strive to ensure that every aspect of our brand exudes excellence and sophistication.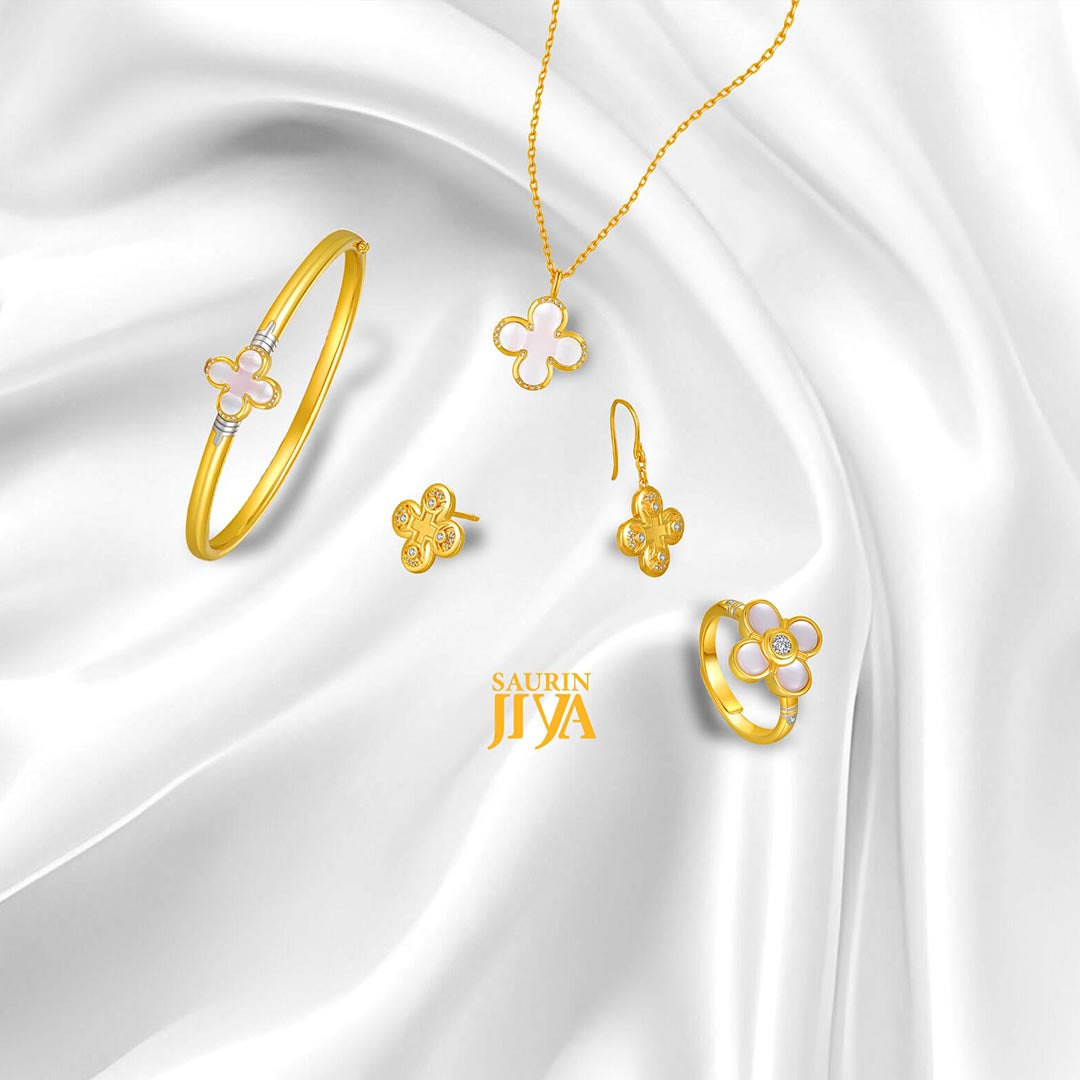 Introducing
Serenity
Introducing the Serenity Collection, a harmonious fusion of calmness, elegance, and tranquility. Each piece in this collection is designed to evoke a sense of inner peace, reflecting the delicate balance between our external world and our inner self. The Serenity Collection is more than just jewelry—it's an ode to the quiet beauty of life's simple moments and the serenity that comes from embracing them. Discover the Serenity Collection and let its soothing symbolism infuse your life with the elegance, calmness, and peace you deserve.
5000+ 5 Star Reviews
Feel confident with thousands of verified, happy customers.
Ethical Sourcing
Our commitment to the planet shines in every piece, crafted responsibly and traced transparently for a sustainable tomorrow
On Demand Stylists
Our lovely team is here to help you 7 days a week